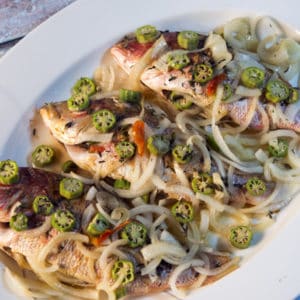 Baked Snapper
Ingredients
3

med

snapper

whole

1

lg

yellow onion

sliced

3

tsp

Caribbean Food Delights seasoning salt

3

tbsp

thyme

fresh

1

cup

Okra

sliced

1

sm

scotch bonnet pepper
Notes
Preheat oven to 350°F.
Scale, gut and clean snapper. Peel and slice onion. Rub 1 tsp Caribbean Food Delights Seasoning Salt and 1 Tbsp Fresh Thyme on and inside each snapper. Place 1/3 cup of okra and 1/4 of the sliced onions in the gut of each snapper.
Put the seasoned snapper in a baking pan. Add a Tbsp of butter on each snapper, spread the remaining onions over the snapper and place one whole scotch bonnet pepper on top. Cover and bake for 20 minutes.
Serve with rice.