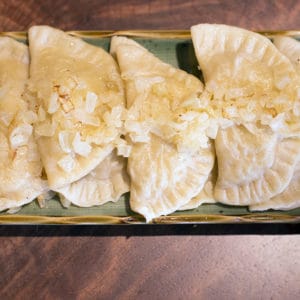 Potato Pierogis
Ingredients
Dough
2

Large

Eggs

1/4

Cup

Water

1

Tbsp

Sour Cream

3

Cups

All-Purpose Flour, plus some extra for dusting and to adjust dough as needed
Filling
1

Large

Onion, Chopped

2

Tbsp

Butter

4

Large

Potatoes, Peeled and cut into chunks

3

Tbsp

Butter

1/4

Cup

Half-and-Half

Salt and Pepper to taste
Notes
1. Whisk eggs, water, sour cream together.
2. Mound flour on flat surface. Create a well or crater in mound. Fill crater with egg mixture. Gently mix flour with the egg mixture within the crater.
3. Repeat steps 2 until well combined. If dough is too dry add milk or water to moisten. If it is too wet add small amounts of flour until you get the right consistency.
4. Knead dough for 400 strokes or until smooth.
5. Wrap in plastic and rest for 30 minutes.
6. Boil potatoes until tender for about 15 minutes, drain.
7. Sauté onions with 2 Tbsp butter in a pan.
8. Mash potatoes and mix with onions, 3 Tbsp butter, half-and-half, salt and pepper to taste.
9. Divide dough into thirds. Roll dough to 1/16th of an inch thick. Cut into 3 inch circles.
10. Place mashed potato in center of circle. Fold dough to make half moons. Seal with an egg wash (one egg whisked with Tbsp milk) and press edges with a fork.
11. Boil pierogis for 2-3 minutes. Serve with fried onions and sour cream.