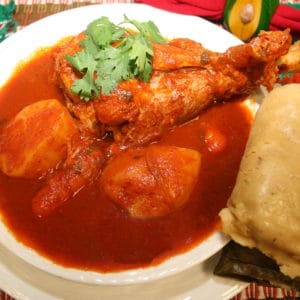 Kak'ik
Ingredients
4

lbs

Turkey Legs or Thighs

7

Tomatoes

2

bunches

Cilantro

1

Large

Onion

1

Bulb

Garlic

4

Potatoes

4

Carrots

2

Negro Chili Pods

8

Cascabel/Guajillo Chili Pods

8

Tbsp

Chicken Flavor Boullion

Salt to Taste
Notes
1. Cut potatoes into halves and carrots into three big pieces, set aside.
2. In a pot add half of the onion, six garlic cloves, turkey, half bunch of cilantro and chicken flavor boullion. Add enough water to cover ingredients. Add salt to taste and boil for 30 minutes.
3. In a separate pan roast tomatoes, add chili pods (seeds removed), remainder of onions and garlic.
4. Once roasted combine with remaining cilantro.
5. Once turkey is soft, add roasted tomato sauce, carrots and potatoes. Stir until sauce is fully incorporated into turkey stock.
6. Boil for 20 minutes. Serve and enjoy!